Hydroxypropyl Methylcellulose Solution HPMC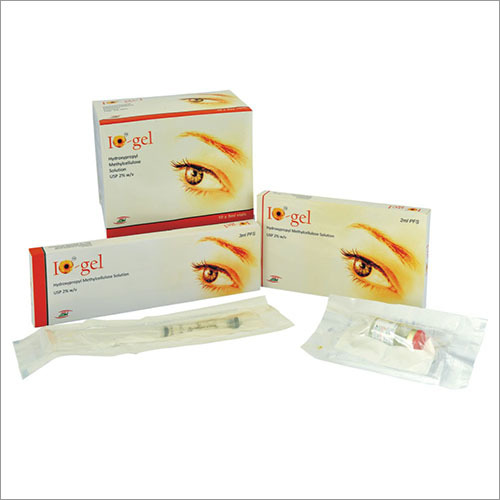 Hydroxypropyl Methylcellulose Solution HPMC
Product Code : 18
Brand Name : IO Gel
Since our inception in the year 2009, we have successfully been engaged in providing an excellent quality of Under the most suitable conditions, the offered gel is processed with the use of non-hazardous basic ingredients by our experienced professionals. The offered gel is widely used as an important solution for performing general purpose ophthalmic treatments. Our valued clients can purchase the provided Hydroxypropyl Methylcellulose Solution.

Features: Hydroxypropyl Methylcellulose Solution.
Safe and non-hazardous in nature
Provides highly effective results
Longer shelf life and packed in hygienic materials
Causes no side effects if used with care

IO-Gel: Hydroxypropyl Methylcellulose Solution
Description: IO-GEL Ophthalmic Viscosurgical Device (IO-GEL) is a clean, isotonic, non-pyrogenic viscoelastic arrangement of exceedingly sanitized, non-incendiary Hydroxypropyl Methylcellulose Solution.(HPMC) Solution with a high sub-atomic weight more noteworthy than 80,000 daltons for intraocular use amid the surgery of the front section of the eye. For a 2% w/v HPMC arrangement every ml. of arrangement gives 20 mg of HPMC broke down in adjusted salt arrangement. The thickness of this arrangement is 4000 to 5500 cps.
Signs: The IO-GEL is demonstrated for use as an ophthalmic surgical guide in foremost section surgical strategies, for example, waterfall extraction and intraocular lens implantation. The IO-GEL keeps up a profound chamber amid front section surgery and along these lines taking into account more proficient control with essentially less injury to corneal endothelium and other visual tissues.
Contraindications:
At present, there are no known contraindications, when utilized by a prepared Ophthalmic specialist, as showed.
Warnings:
Do not utilize the bundle if the trustworthiness of the sterile packaging is traded off.
The IO-GEL is for intraocular utilization
The IO-Gel is for single utilize as it were.
The machine is not to be set in direct daylight or temperature surpassing 40.
Do not re-sterilize the machine.
Storage:
Store in cool & dark place
Supply :
The IO-GEL is sterile arrangement 2% w/v Hydroxypropyl Methulcelluse is accessible in 2 ml., 3 ml. PFS in pocket pack. 5 ml. Vial with pocket in pack of ten.
Contact Details
SURGITECH INNOVATION
Plot no. 114, Sector-3, HSIIDC, Industrial Estate,Karnal - 132001, Haryana, India
Phone :91-184-2272387
Mr. RAJESH KALRA (Director)
Mobile :+919215231387, +918199020101
Registered Office: 9865 Fall Valley Way, Sacramento CA, 95829, USA